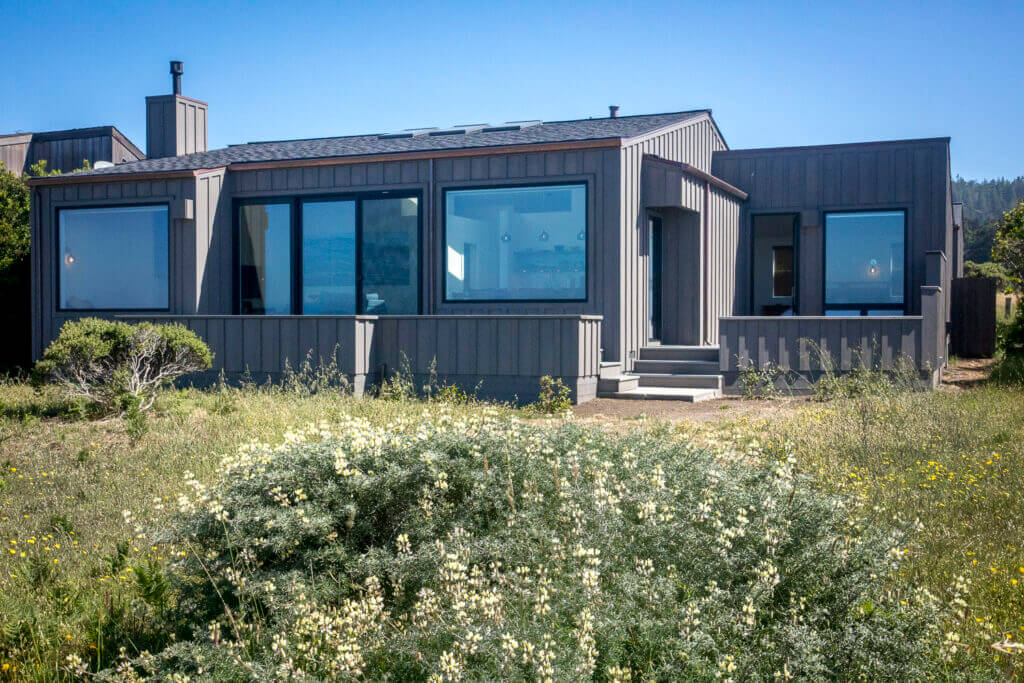 Brown Pelican Retreat / Unit 35C Lot 104 / TOT #3907N / Oceanfront / One level home / 4-person occupancy including children. 2 bedroom 2.5 baths. (Sheets and towels provided for 2 King beds).
High speed internet access, hot tub, gas fireplace, central heating, large 55" TV in living room and 42" TV in 2nd bedroom, both enabled with Netflix and Hulu+, Bluetooth speaker, washer/dryer, gas BBQ grill, commercial style gas range, heated floors in full bathrooms. Electric car charger available.
The heart of this beautiful home is the great room facing out on the Pacific Ocean with expansive windows stretching across the entire width of the room. At one end, the sitting area with fireplace, window seat and television. At the other end, the kitchen and a dining area that will accommodate six.  A chef's table, seating four, separates the dining area from the well-equipped kitchen. Large skylights bring natural light down into the center of the home. The great room opens out onto a deck which extends across the width of the home providing a superb place to watch for migrating birds and whales. An alcove just off the great room provides the perfect spot to set up your laptop and check email or post your latest pictures to your Facebook page. Both the guest bedroom and the master bedroom have very comfortable king beds. The master bedroom opens out onto a deck with a hot tub and a great view of the Pacific Ocean. The Bluff Top Trail is just steps away from your deck.

Starting at 3 nights, $1,940 / Weekly rate, $4,160.
Children welcome. Sorry, no pets.
This home does not participate in off-season specials.
Oceanfront Homes
Autumn Mist | Beach Dreams | Beach House | Brown Pelican Retreat
Cardey | Cielo e Mar | Cove Overlook | De Young
Fitzgerald | Lovers' Reach | Masthead Dunes
Moore Condo #9 | Serenity | Siren Song
Summer Wind | Sunset Point

Forest | Hillside | Oceanside Meadows
Architectural | Premier | Pet Friendly

Home