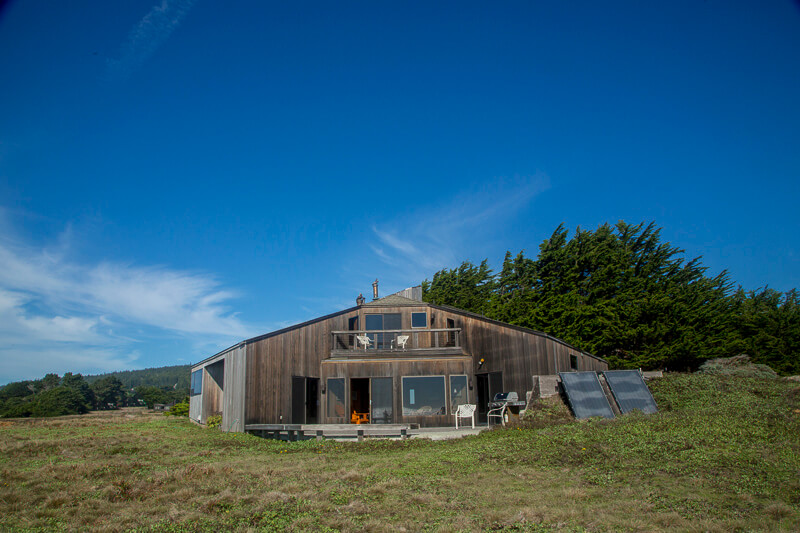 Sunset Point / Unit 18 Lot 45 / TOT #1956 / Oceanfront / 2 level home / 6-person occupancy, children over 12 years. Three bedrooms (2 queen, 2 twin), 2 baths. Internet access, radiant heat, 2 woodstoves, 40" flat screen TV in living room with DVD, CD and stereo, master bedroom with 55" flat screen TV, washer-dryer, some deck furniture. No pets.
Location, location, location! Sunset Point is a classic Carson Bowler design that ably epitomizes the founders' architectural principles. Located on a private point of land jutting out into the Pacific Ocean, one gets the sense this extra special property is matched by very few other private residences anywhere in the world. For example, the trail that follows the bluff top is BEHIND this home, so it is only you and the ocean out front. The generous sized home has a beautiful wood interior and an oceanfront deck……up close and personal to the crashing waves. Also know, this is the location of the Seal Rookery on Sea Ranch which comes alive in the springtime with mothers and babies. Taking the trail south, you come to Pebble Beach, which has great tide pools with star fish and urchins during the calmer summer and early fall months. Taking the trail to the north brings you to Ohlson Beach and beautiful Stengel Beach with loads of sand during the warmer months. Whales migrate past twice a year on their way back and forth between Alaska and Baja California. Make this special property yours during your Sea Ranch visit.

Starting at 3 nights, $1,586 / Special weekly rate, $2,978.
Children over 12 years welcome. Sorry, no pets.
Oceanfront Homes
Autumn Mist | Beach Dreams | Beach House | Brown Pelican Retreat
Cardey | Cielo e Mar | Cove Overlook | De Young
Fitzgerald | Lovers' Reach | Masthead Dunes
Moore Condo #9 | Serenity | Siren Song
Summer Wind | Sunset Point

Forest | Hillside | Oceanside Meadows
Architectural | Premier | Pet Friendly

Home