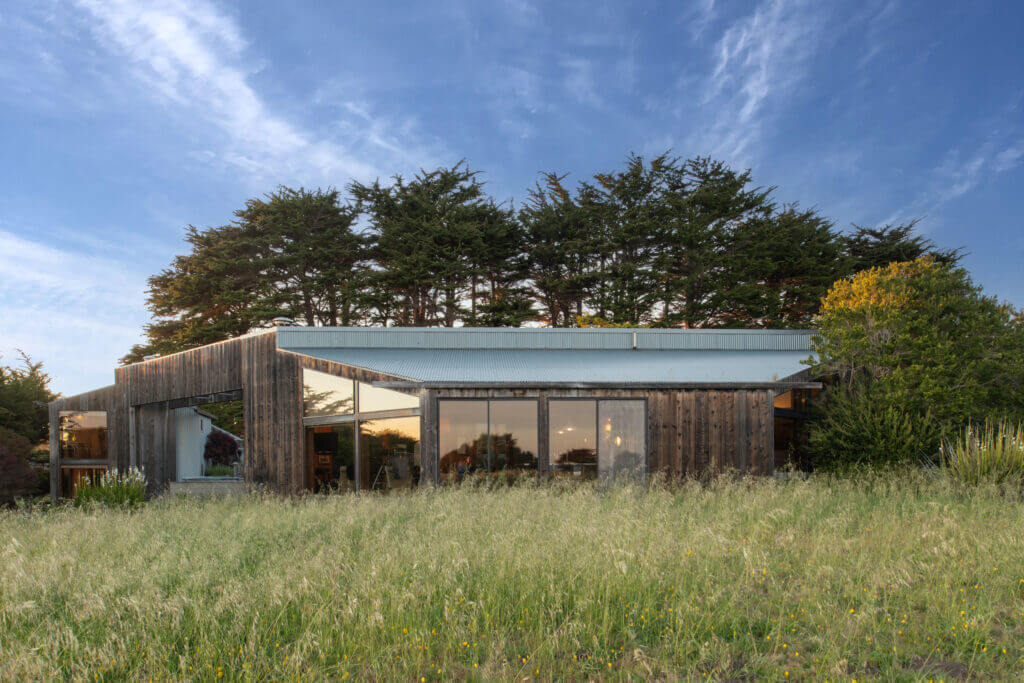 Tin Roof / Unit 24 Lot 109 / TOT #3908N / Oceanfront / 2-6-person occupancy, adults only. Main house and guest house is 3 bedroom – 2.5 bath (2 King, 1 Queen). Obie Bowman design. Enclosed planted patio. linens provided, internet access, central heat, gas fireplace, Satellite TV, DVD, stereo, CD, washer/dryer, gas BBQ.
An architectural award-winning home, designed by Obie Bowman, AIA, one enters Tin Roof through a spacious courtyard that looks across a broad meadow to a perfectly framed view of the Pacific…just as though it were a giant painting hanging on the wall. The courtyard has multiple sitting areas. The structure to the right is the guest house. The structure to the left and straight ahead is the main house. One steps into the great room with its vertical grain Douglas Fir floors, comprising a sitting area, a large gas fireplace, a dining area, and a dynamite kitchen that would be the envy of any gourmet chef. A central hall that gently steps upward leads to the master bedroom suite with deluxe jetted tub and separate shower. All the living areas have views across the meadow to the ocean beyond. The separate guest house has two bedrooms: one on the ground floor and the second one is up one level. The two guest bedrooms each have their own vanity and toilet facilities and share a common shower, which is separate from both. If you are looking for a unique, fun and incredibly special vacation home that you'll always remember…..you've probably just found it. Make some memories.

2 Adults: Starting at 3 nights, $1,704 / Special weekly rate, $2,707.
3-6 Adults: Starting at 3 nights; $2,235 / Special weekly rate, $3,592.
Adults only. Sorry, no pets.
Oceanfront Homes
Autumn Mist | Beach Dreams | Beach House | Brown Pelican Retreat
Cardey | Cielo e Mar | Cove Overlook | De Young | Fitzgerald
Lovers' Reach | Masthead Dunes | Moore Condo #9
Serenity | Siren Song | Summer Wind
Sunset Point | Tin Roof

Forest | Hillside | Oceanside Meadows
Architectural | Premier | Pet Friendly

Home