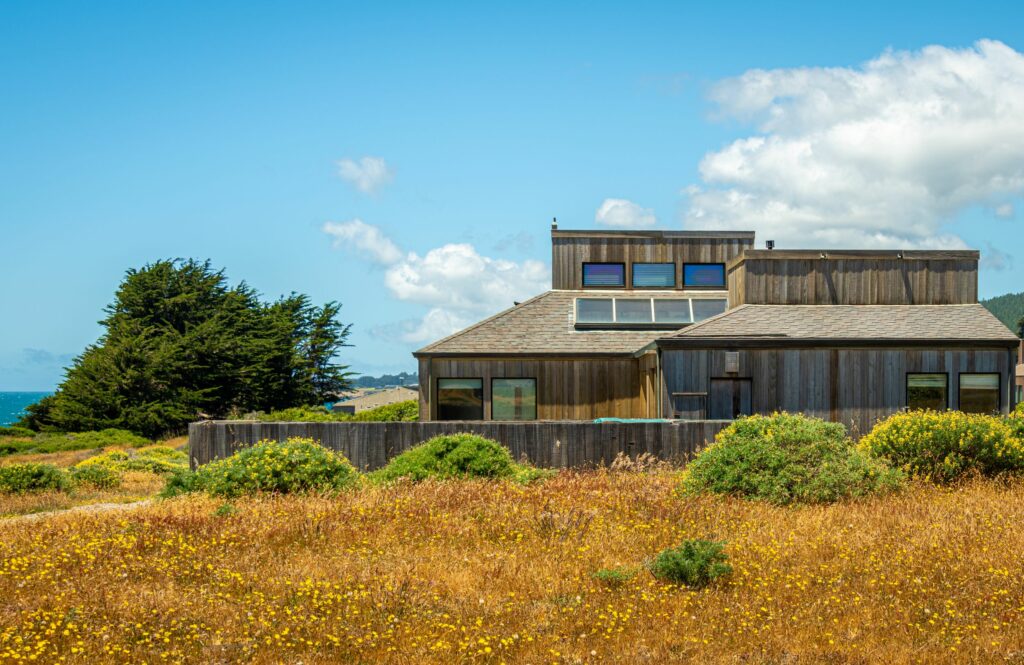 Cove Overlook / Unit 18 Lot 72 / TOT #3163N / Oceanfront / 2 level home / 6-person occupancy including children of all ages. 2 bedrooms plus loft, 2 baths. Internet access, hot tub, central heat, wood burning fireplace, satellite with 42" flat screen TV, DVD, washer-dryer, garage (not available for car parking), some deck furniture.
Entrance into the home is either through the front door or the garage (which is a nice option in rainy weather). The entrance is centrally positioned such that one can turn left into the kitchen; go straight ahead into the living room; upstairs to the loft bedroom or turn right to two bedrooms and to access the garage. Every room except the loft is on the ground floor. The spacious living room has a beautiful, white-water view of the cove which is a short distance from the deck that wraps around that side of the home. A large wood burning fireplace is a central feature of the living room. A widescreen television is well positioned for viewing and is set into a large cabinet, the doors of which can be closed. An efficient kitchen opens to the dining area which also has a splendid view of the cove. On the other side of the living room a glassed-in porch with a table and two comfortable chairs provides the perfect place for a libation about any time of the day or night in any kind of weather. There is a large deck with two chairs and the hot tub. One of the two bedrooms has an enclosed patio with chairs and a chaise. Upstairs, the loft has two twin beds.

Starting at 3 nights, $1,586 / Special weekly rate, $2,978.
Children welcome. Sorry, no pets.
Oceanfront Homes
Autumn Mist | Beach Dreams | Beach House | Brown Pelican Retreat
Cardey | Cielo e Mar | Cove Overlook | De Young
Fitzgerald | Lovers' Reach | Masthead Dunes
Moore Condo #9 | Serenity | Siren Song
Summer Wind | Sunset Point

Forest | Hillside | Oceanside Meadows
Architectural | Premier | Pet Friendly

Home