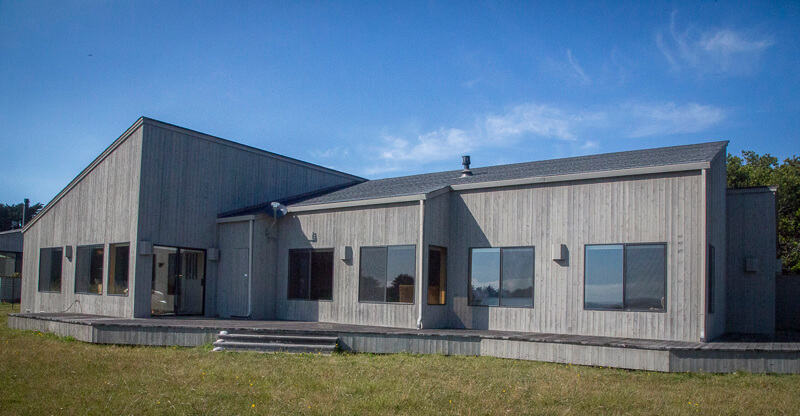 Azul Delight / Unit 35C Lot 90 / TOT #1877 / Oceanside Meadows / 1 level home / 6-person occupancy, children welcome. Three bedrooms (1 king, 1 queen, 2 twins), 2 baths.
Hot tub, internet access, baseboard heat, gas fireplace, Satellite, 64″ wide flat screen TV with DVD, stereo, CD, washer/dryer, gas BBQ grill, some deck furniture.
This one level home is located on the edge of a very large oceanside meadow. It would be ideal for several couples or a family. Entry is through a secluded garden patio into a very generous living area off which are located all the other functional spaces of the home. Extensive blue water views across the oceanside meadow with a long deck across virtually the entire length of the home. A small writing desk is located between the great room and the kitchen – perfect for catching up on email. The well-equipped kitchen, adjacent to the dining area, has a large central workspace suitable for one or more sous-chefs. Next to the dining area is a second sitting area with access through a sliding door to the large deck – a perfect setup for al fresco dining. Two guest bedrooms and a bath are located off the great room as is the master bedroom/bath suite. The hot tub (with blue water views) is tucked into a sheltered alcove off the Master bedroom/bath suite at the end of the deck. Enjoy a short walk to the Bluff Top Trail that extends virtually the entire ten-mile length of The Sea Ranch.

Starting at 3 nights, $1,232 / Special weekly rate, $2,276.
Children welcome. Sorry, no pets.
Oceanside Meadows
315 | Abalone Cove | Art House | Azul Delight
Bella Luna | Benemy | Lightfoot | Littoralis
Loeffler | Mare Vista | Moon Shadow
Pelican's Rest | Piper's Dream | Sea Meadow
Seaside Serenity | Solstice Meadow | Vincent

Forest | Hillside | Oceanfront
Architectural | Premier | Pet Friendly

Home