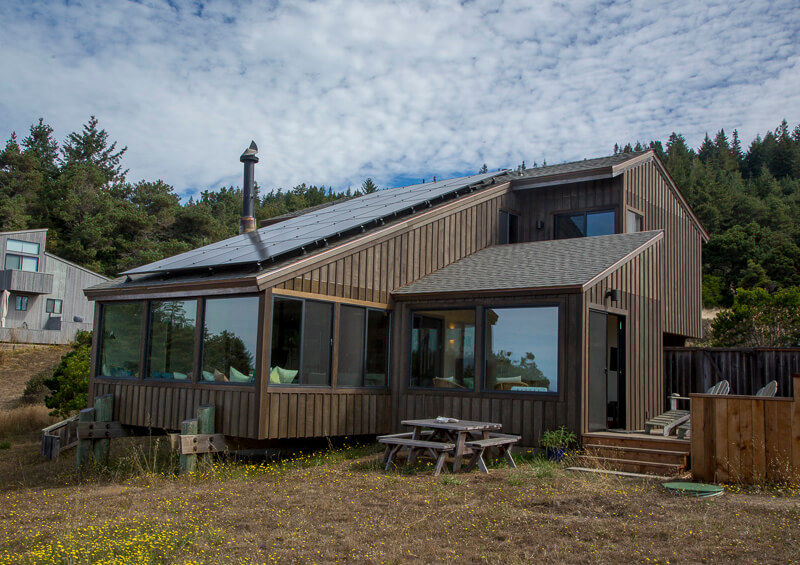 Littoralis / Unit 21 Lot 149 / TOT #2160 / Oceanside Meadows / 2 level home / 4-person occupancy, children welcome / pets allowed. 2 bedroom – 1 ½ bath (1 king, 1 queen). Hot tub, protected outside shower, high end appliances in the kitchen (dual fuel stove, Miele dishwasher), wall heat, woodstove, Satellite with 32" flat screen TV, SONOS Sound System, Blu-ray & DVD player, CD/tape player, internet connection, washer/dryer, electric car charger, propane barbeque, some deck furniture.
Taking its name from the Latin word for seashore, "Littoralis" is the quintessential seaside cottage. The house is centrally situated on the ocean side of Highway One but on a rise (bench), providing expansive birds eye views of the Pacific. A beautiful meadow, stretching from the house to the water's edge, is home to a wide diversity of wildlife. This is a simple beach house, not fussy or fancy, but thoughtfully appointed with all the essentials for a relaxing, enjoyable stay. The downstairs is one large space encompassing living, dining, half bath, and kitchen areas. Wall to wall window seat area is perfect for relaxing, reading and or planning the next adventure. Wall heat and a woodstove provides ambiance as well as additional warmth. The living room has a television equipped with Blu-ray DVD for an evening of movies or the latest sports event. Two decks flank the house, one features a hot tub and a conveniently located outdoor shower with benches and plenty of hooks for towels. The second deck has seating and a propane barbeque. A very flexible home – ideal for one or two couples or a small family. Pets are welcome.

Starting at 3 nights, $1,121 / Special weekly rate, $2,096.
Children and pets welcome.
Oceanside Meadows
315 | Abalone Cove | Art House | Azul Delight
Bella Luna | Benemy | Lightfoot | Littoralis
Loeffler | Mare Vista | Moon Shadow
Pelican's Rest | Piper's Dream | Sea Meadow
Seaside Serenity | Solstice Meadow | Vincent

Forest | Hillside | Oceanfront
Architectural | Premier | Pet Friendly

Home