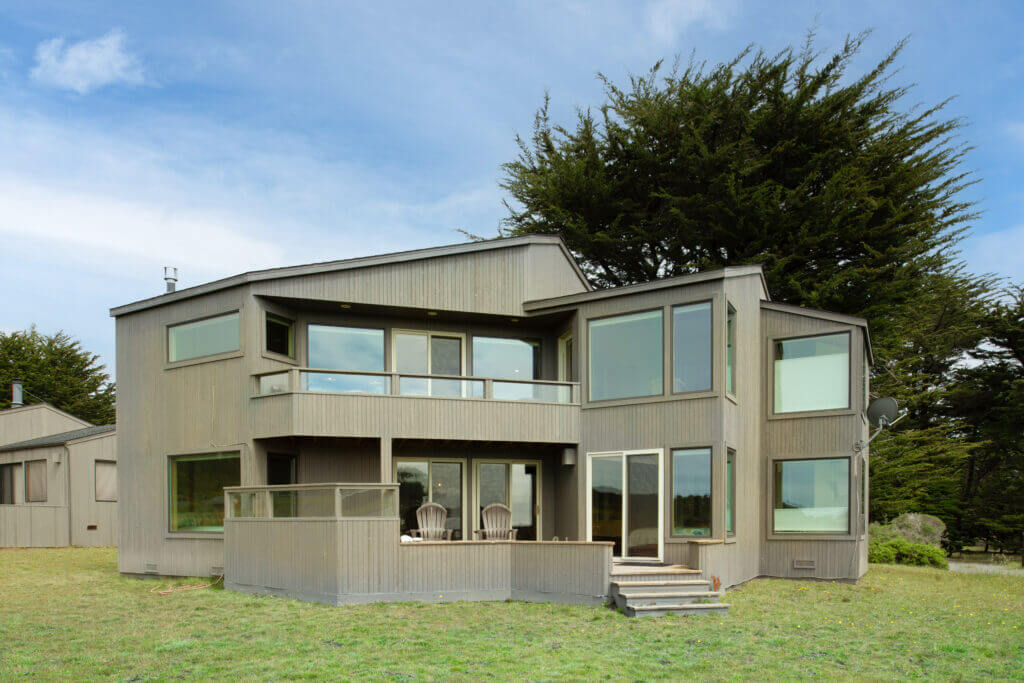 Pelican's Rest / Unit 34A Lot 55 / TOT #2170 / Oceanside Meadows / 2 level home / 8-person occupancy including children over 5 years of age, no pets permitted / 4 bedrooms ( 2 queen, 1 double, 2 twin) and 3.5 baths.
Internet access, hot tub, in floor heat, gas fireplace, Satellite TV and DVD with 27½ " wide flat screen, stereo and CD player, some deck furniture, garage.
The Pelican's Rest has beautiful meadow and blue water ocean views from most rooms of this two-story home. A reverse floor plan has you ascend the beautiful, curved staircase to the open living/dining/kitchen, plus a half bath and a master bedroom/bath suite. There is a large deck area outside of the living room. The chef in your party will delight in the well-equipped kitchen and the rest of the group will love the chef's counter where onlookers can provide their culinary wisdom while the meal is being prepared. The dining table is large enough to seat your entire party whether for meals or a board game. The seating area in the living room is equipped with television and includes a gas fireplace. Downstairs, there is another seating area with television making it perfect for those occasions when the group cannot decide which movie or game to watch. There are also two more guest bedrooms, a full bathroom, and a second bedroom/bath suite on the ground floor. Outside of the lower seating area is a second deck with a hot tub. The cabinetry and woodwork throughout the home is particularly noteworthy. The home is equipped with in-floor heating, a laundry facility and internet connectivity. The home accommodates up to eight persons, including children over five years of age, and is perfect for several couples or a family.

Starting at 3 nights, $1,498 / Special weekly rate, $2,803.
Children over 5 years welcome. Sorry, no pets.
Oceanside Meadows
315 | Abalone Cove | Art House | Azul Delight
Bella Luna | Benemy | Lightfoot | Littoralis
Loeffler | Mare Vista | Moon Shadow
Pelican's Rest | Piper's Dream | Sea Meadow
Seaside Serenity | Solstice Meadow | Vincent

Forest | Hillside | Oceanfront
Architectural | Premier | Pet Friendly

Home