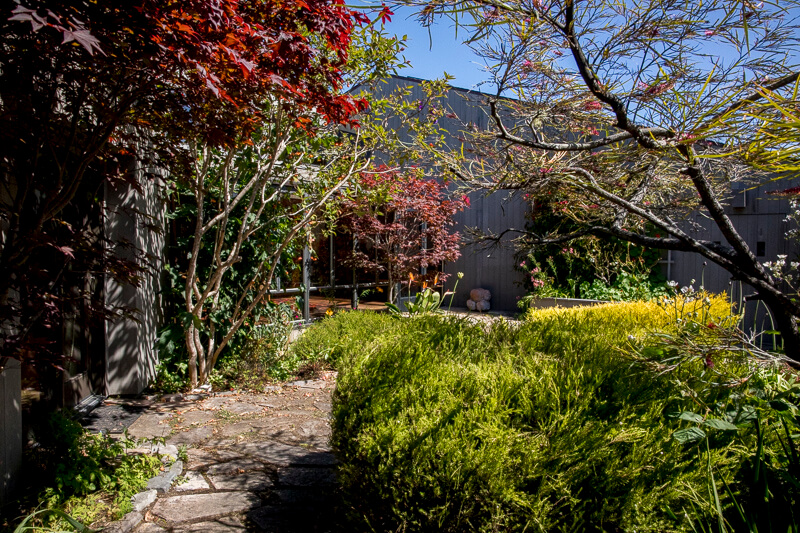 "315" / Unit 35A Lot 12 / TOT #2979N / Oceanside Meadows / 1 level home / 6-person occupancy including children and 1 dog. Three bedrooms (1 King, 2 Queen), 3 baths. Linens are provided. Internet access, Hot tub, forced air heat, wood fireplace, Satellite TV with DVD, CD and stereo, washer-dryer, some deck furniture. Linens and towels included.
One of the most ideal vacation homes you will find at The Sea Ranch is "315." The home is a genuinely nice size with generous rooms. There is a nice ocean view from the living room and deck. The dining area of the Great Room is very adequate, and the kitchen is exceptionally nice with modern appointments. When inside the home, you will know you are at Sea Ranch with the architecture, soaring ceilings, and lots of interior wood. On the outside of "315" you will find an enclosed courtyard, entry garden planted years ago by a talented and enthusiastic gardener. Roses, hydrangeas, azaleas, rhododendrons, fuchsia, alstroemeria, nasturtiums, bougainvillea, heathers maybe as many as a hundred different flowering plants chosen so that the garden changes throughout the year. A multitude of colors will welcome you each time you enter this home.

Starting at 3 nights, $1,502 / Weekly rate, $3,225. (Linens and Towels included)
Children welcome. Dog friendly (One dog permitted).
This home does not participate in off-season specials.
Oceanside Meadows
315 | Abalone Cove | Art House | Azul Delight
Bella Luna | Benemy | Lightfoot | Littoralis
Loeffler | Mare Vista | Moon Shadow
Pelican's Rest | Piper's Dream | Sea Meadow
Seaside Serenity | Solstice Meadow | Vincent

Forest | Hillside | Oceanfront
Architectural | Premier | Pet Friendly

Home