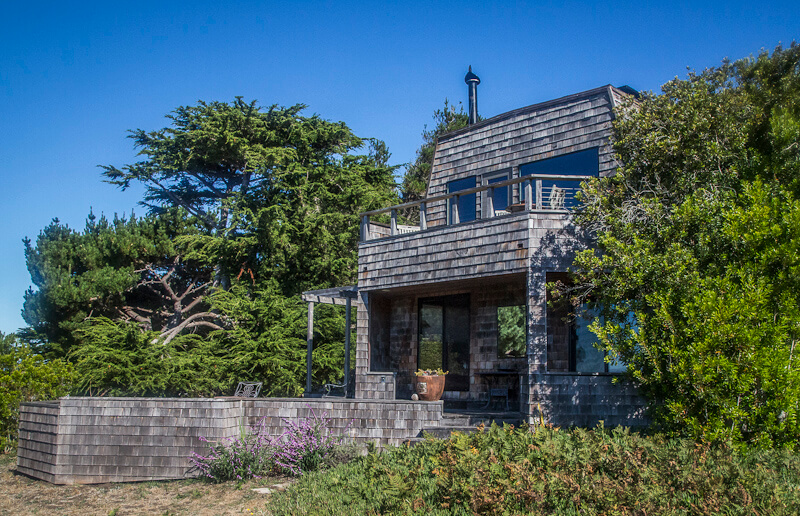 Moon Shadow / Unit 18 Lot 17 / TOT #2164 / Oceanside Meadows / 2 level reversed floor plan / 4-person occupancy, children over 3 years ok / 2 dogs allowed.
2 bedroom – 2 baths (2 queen). Saltwater hot tub, enclosed yard for your pet, internet access, wall heat, woodstove, Roku TV with 28" wide flat screen TV, DVD, CD, washer/dryer, gas BBQ, some deck furniture, garage. Linens and towels included.
Moon Shadow, an early Sea Ranch home, is adjacent to the coastal bluff with white water ocean views. Wood paneled walls and open post & beam construction are part of the charming design. Wall heaters are supplemented by an old-fashioned woodstove. TVs are available upstairs and down. Enjoy an exceptionally fine eclectic art collection along with Oriental rugs. Hot tub is located on the lower deck, near the two bedrooms.

Starting at 3 nights, $1,179 / Weekly rate, $1,885. (Linens and Towels included)
Children over 3 years welcome. Dog friendly (Two dogs permitted).
Off-Season Special is 7 nights for the price of 6 nights.
Oceanside Meadows
315 | Abalone Cove | Art House | Azul Delight
Bella Luna | Benemy | Lightfoot | Littoralis
Loeffler | Mare Vista | Moon Shadow
Pelican's Rest | Piper's Dream | Sea Meadow
Seaside Serenity | Solstice Meadow | Vincent

Forest | Hillside | Oceanfront
Architectural | Premier | Pet Friendly

Home