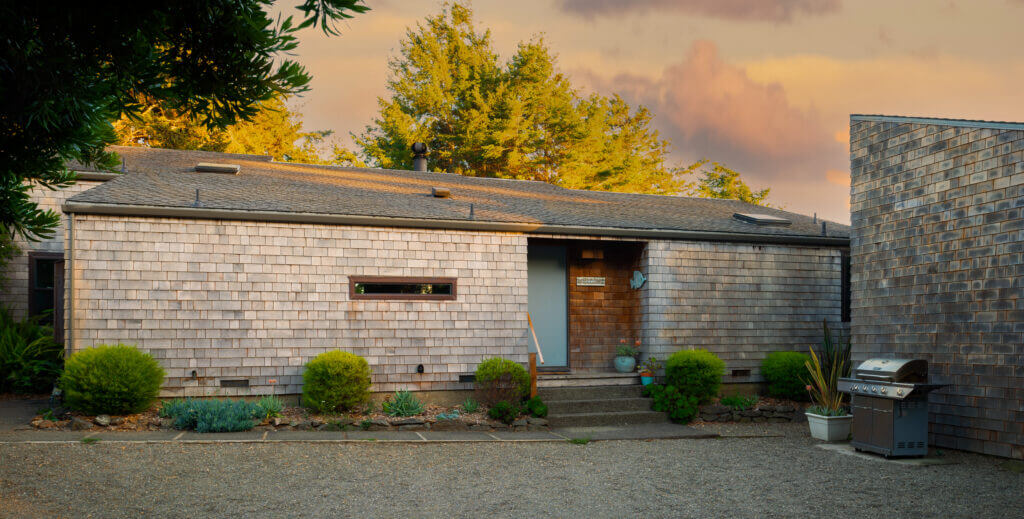 Loeffler / Unit 24 Lot 88 / TOT #2161 / Oceanside Meadows / 2 level home / 6-person occupancy, 4 adults maximum, children of all ages welcome. 2 bedrooms plus loft (3 Queen) – 2 baths. Hot tub, no pets, internet access, electric wall heaters, wood burning fireplace, Satellite with 50" flat screen TV, HD, DVR in living room, master bedroom with 42" flat screen TV, stereo, CD, washer-dryer, gas BBQ, deck furniture, 1 car garage.
This beautiful vacation home is conveniently located close to the bluff top trail and the ocean. With two bedrooms, a spacious loft and two baths it is a perfect retreat for one or two couples or a small family. Entrance is from a large, enclosed parking area, through a small, covered porch, directly into the home's great room. Everything else in the home opens off this central space. The comfortable sitting area is equipped with a large flat screen television and there are several places ideal for curling up with a good book or a warm libation. A huge stone-faced wood burning fireplace is in the center of the great room. The well-equipped kitchen is to the left as is the writing alcove and the second bedroom and bath. The dining area is positioned so that it is easy to service from the kitchen. A generous outside deck opens off the dining area. This expansive deck area effectively extends the living space outside with views to the ocean and into the woods behind the home. The hot tub area is tucked back on an extension of the deck next to the master bedroom. The master bedroom suite, also with its own television, opens to the hot tub with a sheltered sitting area on the deck close by.

Starting at 3 nights, $1,161 / Special weekly rate, $2,136.
Children welcome. Sorry, no pets.
Oceanside Meadows
315 | Abalone Cove | Art House | Azul Delight
Bella Luna | Benemy | Lightfoot | Littoralis
Loeffler | Mare Vista | Moon Shadow
Pelican's Rest | Piper's Dream | Sea Meadow
Seaside Serenity | Solstice Meadow | Vincent

Forest | Hillside | Oceanfront
Architectural | Premier | Pet Friendly

Home