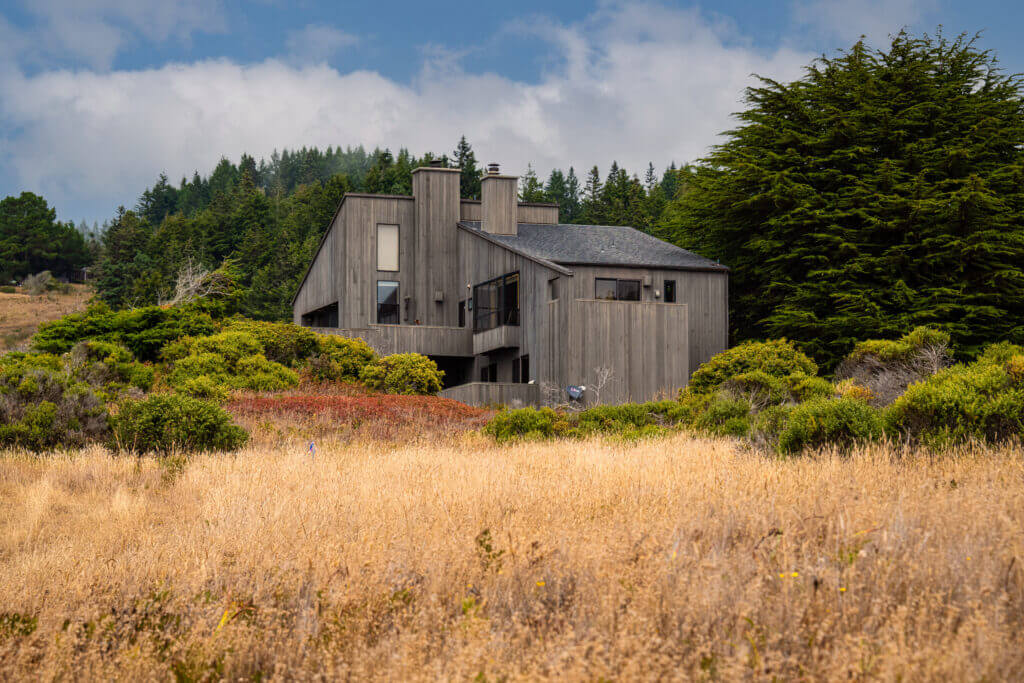 Seaside Serenity / Unit 17 Lot 42 / TOT #2176 / Oceanside Meadows / 2 level home / 6-person occupancy, children and pets welcome. Three bedrooms (2 queen, 1 king/ king bed in 2nd bedroom), – 2 & 1/2 baths. Linens provided, hot tub, internet access, forced air heat, 2 fireplaces (master bedroom and living room), 42" TV in living room with Blu-ray/DVD, CD, iPod dock, all bedrooms have TVs, washer-dryer, deck furniture, garage.
Seaside Serenity is a magnificent vacation home and makes a striking architectural statement. The entrance from the parking area is up a flight of stairs through an outdoor vestibule. Once in, the great room opens to living, dining and ample kitchen. This central space provides a sitting area, which flows through the sliding doors onto a large deck, which effectively extends the living area. This hot tub deck also receives a beautiful, expansive view out over the meadow and the Pacific. The three bedrooms all have deck space equipped with comfortable outdoor furniture. Master bedroom has an ocean view. The two wood fireplaces, one in the living room and one in master bedroom suggest an extra warm ambiance. Trails are nearby and Pebble Beach to the south is excellent for tidepool exploring during the gentle summer and early fall months. Keep an eye out for resident fox in the area!

Starting at 3 nights, $1,537 / Special weekly rate, $2,843.
Children and pets are welcome.
Oceanside Meadows
315 | Abalone Cove | Art House | Azul Delight
Bella Luna | Benemy | Lightfoot | Littoralis
Loeffler | Mare Vista | Moon Shadow
Pelican's Rest | Piper's Dream | Sea Meadow
Seaside Serenity | Solstice Meadow | Vincent

Forest | Hillside | Oceanfront
Architectural | Premier | Pet Friendly

Home