NEW LISTING!
Paradiso Cottage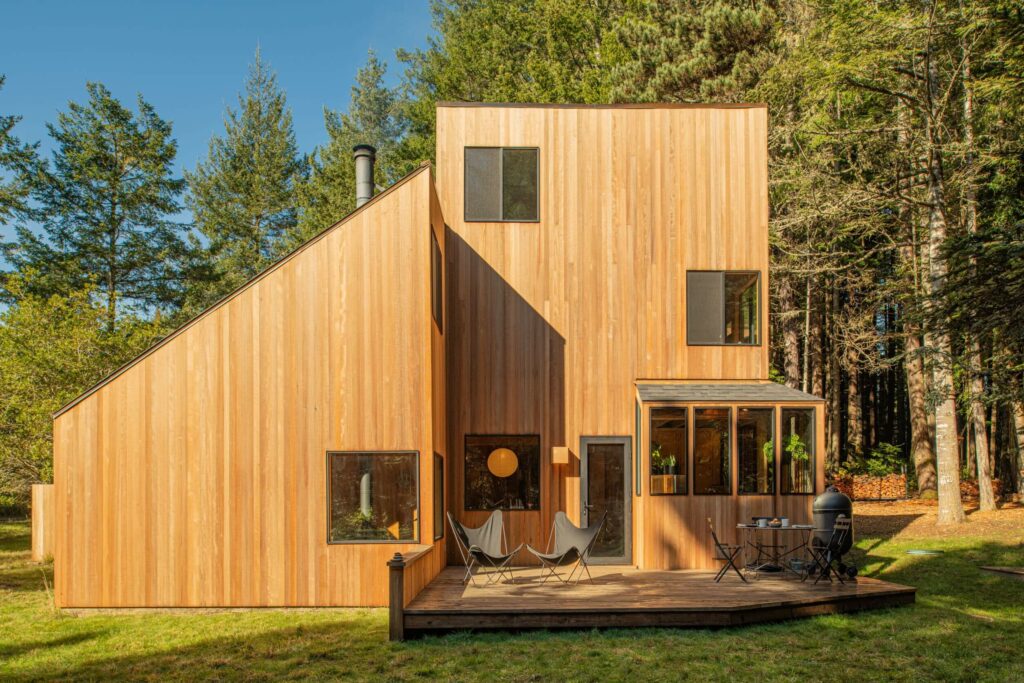 Paradiso / Unit 30A Lot 41 / TOT# 4558N / Forest / 2 Level home / 3-person occupancy (2 adults and 1 child over 5) / 1 Bedroom – 1 bath.
Internet access / electric baseboard heat / free-standing wood-burning fireplace / large flat-screen TV with Netflix, HBO Max, Disney / Stereo through TV / stacked washer and dryer / some deck furniture.
Looking for a quiet and private place to unwind? Paradiso cottage has you covered. The two-time architectural award-winning home is built in the traditional Sea Ranch style featuring an all-wood interior and maximizing efficient use of space. This 1 bedroom/1 bath home offers up to 2 adults and 1 child (over 5) an opportunity for a special Sea Ranch experience: living lightly on the land, along with nature immersion.
Enjoy the generous living room with a free-standing wood burning fireplace. The efficient-sized kitchen, with its large windows looking out on flora and fauna, is waiting for the culinary creations to begin. The dining table is adjacent to the door to the outdoor deck. There is an upstairs loft bedroom that also has a child's platform bed for one child, ages 5 and up. The platform bed has its own skylight for stargazing and is accessed by a short ladder which should be used by ladder climbing capable people who are okay with a low ceiling. The bathroom is located mid-level, between the first and second floor. Privacy is abundant with no visual neighbors on your side of the street. Open grassland quickly runs into a thick forest whose trees rustle in the wind. In addition to the outdoor deck, there is a homemade swing plus a hammock to while away those lazy hours outside. Bring an e-book or an antique book made of paper. A special experience awaits your reconnecting with mother earth at Paradiso….paradise….Sea Ranch style.

Starting at 3 nights, $1,015 / Special weekly rate, $1,885.
1 Child over 5 years welcome. Sorry, no pets.
Forest Homes
Paradiso | Sea Pony

Hillside | Oceanfront | Oceanside Meadows |
Architectural | Premier | Pet Friendly

Home