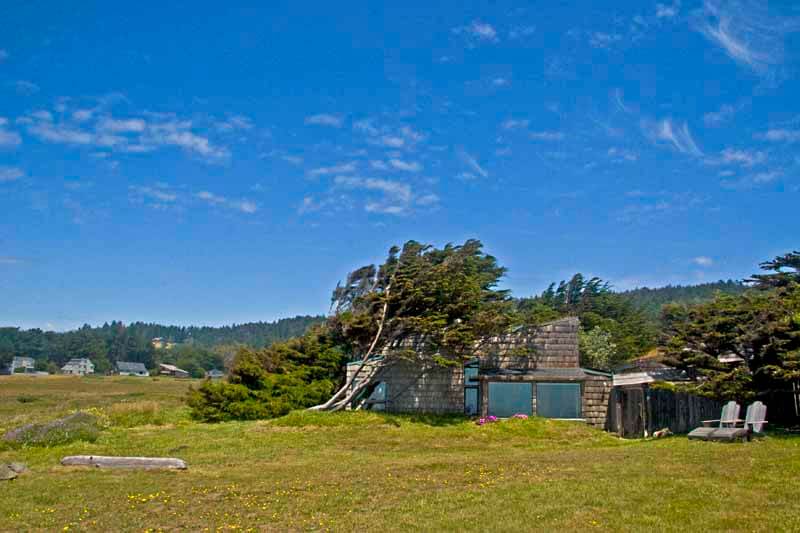 De Young / Unit 1 Block 7 Lot 9 / TOT #2151 / Oceanfront / 2 level home / 6-person occupancy including children of all ages / pets allowed. Three bedrooms plus den – 3 baths ( 3 queen, 1 bunk plus extra twin). Hot tub, enclosed courtyard for your pet, internet access, baseboard plus in floor heat, wood fireplace, Satellite TV with 32 ½" wide Blu-ray flat screen, DVD, stereo, iPod dock, CD, washer/dryer, gas BBQ, some deck furniture.
De Young is special: Nestled among the cypress trees on the bluff above Black Point Beach, with spectacular whitewater views of the Pacific, De Young is one of the original "Hedgerow Houses," designed by architect Joseph Esherick. Mr. Esherick was one of the cofounders of Berkeley's College of Environmental Design. The home is famously set in close relation to the landmark hedgerow of Monterey cypress, all blending seamlessly into its surroundings with its sod roof. There are unparalleled views of the ocean from generous windows in nearly every room in the home. Lovingly refurbished and maintained over the years, De Young has remained true to its origins and provides the quintessential Sea Ranch oceanfront retreat for up to eight guests. Children of all ages are welcome.
Central to the design of the home is a spacious, yet cozy, living room with a wood burning fireplace . Enjoy a spacious, yet cozy, living room with a wood burning fireplace . The dining room is just off the living room and also offers those fantastic ocean views. A well-appointed kitchen will delight the chefs in your group . Next to the living room is a comfortable den with a flat screen television, a Blu-ray DVD, and queen-sized sofa bed . Also find a small office area if you need to do a bit of work, as well as a washing machine and dryer. Two bedrooms and two baths are downstairs. One of these bedrooms has its own bath. The other is equipped with two bunk beds and a twin bed . The newly renovated master bedroom/bath suite is upstairs. De Young offers complimentary internet connectivity and has radiant heat throughout. Outside the sliding doors is the enclosed garden – the perfect place for a wind protected picnic or a soak in the hot tub (and the family dog will love being able to run free as well). A garden gate gives direct access to The Sea Ranch bluff. Black Point Beach, Moonraker Recreation Center and The Sea Ranch Lodge are close by. Come and experience a piece of history.

Starting at 3 nights, $1,980 / Special weekly rate, $3,720 (7 nights for the cost of 6 nights).
Children and pets welcome.
This home does not participate in the off-season specials.
Oceanfront Homes
Autumn Mist | Beach Dreams | Beach House | Brown Pelican Retreat
Cardey | Cielo e Mar | Cove Overlook | De Young
Fitzgerald | Lovers' Reach | Masthead Dunes
Moore Condo #9 | Serenity | Siren Song
Summer Wind | Sunset Point

Forest | Hillside | Oceanside Meadows
Architectural | Premier | Pet Friendly

Home