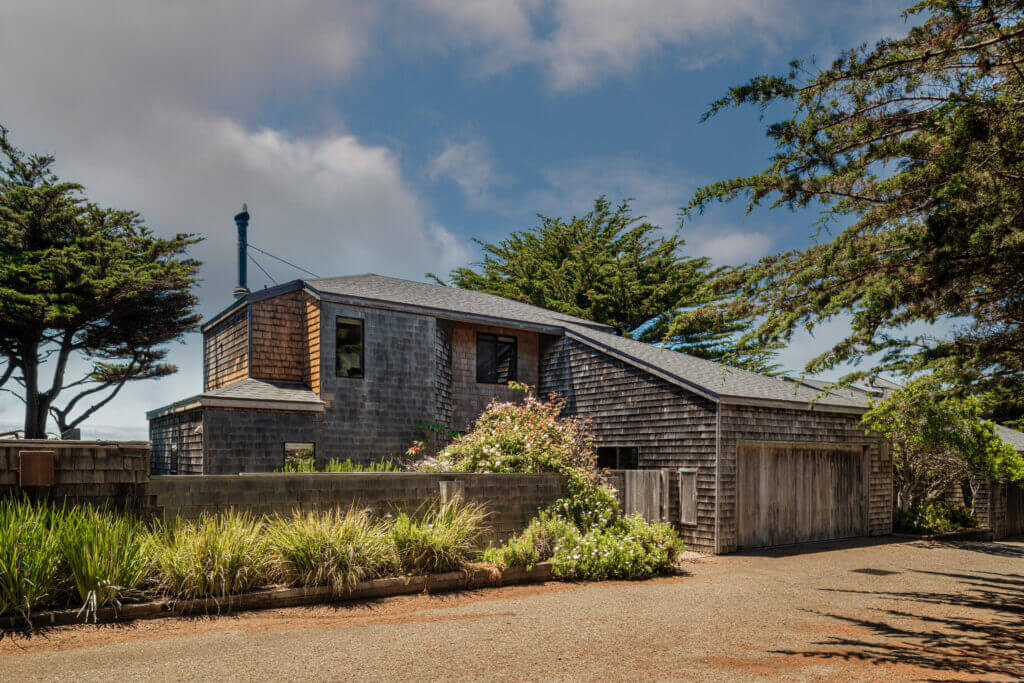 Autumn Mist / Unit 35C Lot 11 / TOT #2141 / Oceanfront / 2 level home / 4-person occupancy including children of all ages / 2 dogs allowed. 2 bedroom – 2 ½ bath ( 2 kings). Saltwater hot tub, enclosed patio for your pet, internet access, central heat, wood burning fireplace in master bedroom, woodstove insert in living room, Roku TV with 42″ wide flat screen. TV/ DVD in living room, master bedroom with Roku TV and 50″ wide flat screen TV/ VCR/DVD, 2nd bedroom with Roku TV and 32″ wide flat screen TV, stereo, CD, washer/dryer, gas BBQ, some deck furniture, garage. Linens and towels included.
Welcome to Autumn Mist, a stunning and beautiful ocean bluff home. Built and designed by Chris Beach and located close to the water's edge at the north end of The Sea Ranch. Nearby are The Sea Ranch Golf Links to the north or the Del Mar Recreation Center to the south. All rooms have dramatic unobstructed views of the ocean, waves crashing into a rocky cove and winter waterfalls. The patio area is glass-enclosed with a saltwater hot tub and marvelous whitewater views. The master suite has a wood burning fireplace and secluded balcony for whale watching or viewing Pacific sunsets. The spacious living room features large window seats, wood burning fireplace and flat screen TV. Autumn Mist has a large, updated chef's kitchen. A high quality, easy care propane grill for outdoor barbecuing are both located in the sheltered patio. The house is comfortably appointed, decorated with contemporary artwork, and is pet friendly.
Autumn Mist was featured in The New York Times' Living Here series October 7, 2005.
Starting at 3 nights, $2,590/ Weekly rate, $4,340. (Linens and Towels included)
Children welcome. Dog friendly (Two dogs permitted).
This home does not participate in off-season specials.
Oceanfront Homes
Autumn Mist | Beach Dreams | Beach House | Brown Pelican Retreat
Cardey | Cielo e Mar | Cove Overlook | De Young
Fitzgerald | Lovers' Reach | Masthead Dunes
Moore Condo #9 | Serenity | Siren Song
Summer Wind | Sunset Point

Forest | Hillside | Oceanside Meadows
Architectural | Premier | Pet Friendly

Home